Wildlife Removal Acworth, Georgia
The Solution for Uninvited Critters in Acworth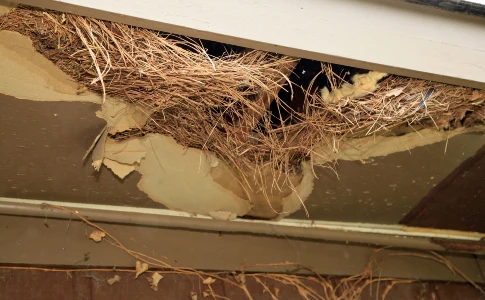 A Team of Wildlife Experts

in Acworth
---
In and around Acworth, there are many different types of wild animals. These animals can cause damage to any property they come in contact with. This is why hiring wildlife removal specialists like us at Dixie Exterminators. is important to have these animals removed from your property. Wildlife control specialists typically charge a fee for removing wildlife from commercial or residential properties. This fee may be a flat rate for all the work or an hourly rate for work done by an individual specialist and their assistants during that time.
Our
Wildlife Removal

Service
---
Wildlife removal service is often the best way to deal with wildlife. Our team will come out and care for the problem, so you don't have to worry about ever seeing that animal again. In many cases, we can eliminate your wild animal problem permanently. We have a wide range of services, from raccoon removal to squirrel removal and anything in between. We will inspect the problem area and then implement a course of action that usually involves trapping and relocating the animal. A combination of exclusion and trapping is the most effective way to resolve your animal problem permanently. Our team will conduct a complete inspection of the area and determine what type of animal you are dealing with, then we will devise a plan for eliminating that wild animal. We use live traps in most cases, but we also have other options if a trap is not an option for whatever reason.
Local Animal Control Experts
Near Acworth, Georgia
---
Animal control refers to the control of animal populations that are considered pests. There are several methods of control, including lethal and non-lethal methods. To resolve a problem with a nuisance animal, consider hiring local wildlife removal professionals. Dixie Exterminators is one of the leading wildlife removal specialists in the Acworth area. We can help you eliminate raccoons, skunks, opossums, squirrels, and many other wild animals that have moved into your home or property.
We aim to provide quality services to help you deal with your animal problem as efficiently as possible. We can help you resolve any animal issue. From snake removal to bat removal, we have the knowledge and know-how to get the job done promptly and effectively. We are trained and skilled professionals committed to providing the customer with quality time management services. Dixie Exterminators has the best customer care in the Acworth area.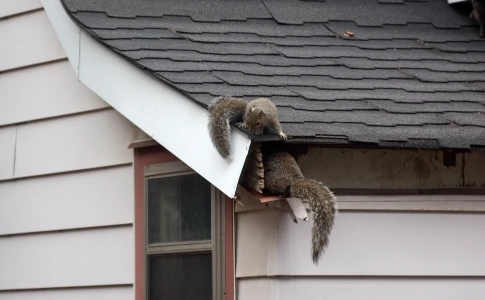 Inspections for Wildlife
Around Your Home
---
We inspect your home and property in Acworth, GA, for signs of wild animal infestation. We will look for tracks, burrowing, poop, and other signs that animals are living on your property. Our wildlife removal specialists will determine how serious the problem is and whether or not we can solve it permanently. Understanding the extent of a problem before taking action helps us eliminate the problem as effectively as possible.
Our technicians are trained to properly identify all species of wildlife and are highly skilled in removing and preventing infestations. Dixie Exterminators offers wildlife control services to commercial, residential, and industrial customers throughout the Acworth area. We are fully insured and licensed, so you can rest easy knowing we will protect your property and investment.
Contact Us for Wildlife Control Services
Dixie Exterminators is a wildlife removal company near Acworth Georgia that will remove any wild animal species from your home or business property. We can help you clean up after a visit from a raccoon, squirrel, skunk, or other loud and aggressive creatures. We're available to handle all wildlife issues in Acworth, GA and throughout the metro Atlanta area. Our wildlife removal specialists are waiting to assist you and can be at your home in as little as an hour.
770.424.1300